This is our 500 HP package for the Lotus Exige V6 or Evora. We use our own charge cooling system like our Exige 460 V6 version with some modifications.
We reinforce the complete engine block (steel rods, forged pistons, upgrade bearings, upgrade head bolts and some other modifications.
The heads are getting new camshafts with stronger valve springs and retainers.
We use our own free programmable ECU package for mapping the engine.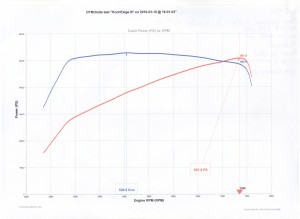 The Video from the Dynotest can you see here!
More information can you find at our webpage or at our development and innovations blog!
Good news for all power junkies: the next V6 power upgrade is still under development – STAY TUNED!